BOOM! Cutting-edge Eonon M1 Car GPS with Miracast & DLNA& NFC support is proudly launched for you! We're the 1st one to use Wireless Miracast tech in car audio field! By one SHARE in your head unit, it will bring multiple HAPPINESS to you and others! The GPS map, videos, movies or games from your smart phones can be displayed on a larger screen vividly without any delay! FASTER than Android!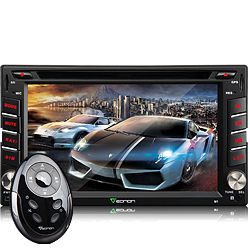 GPS: You might have your own GPS navigation maps on your smart phone, you get use to it and find it always helpful. One of the most widely-used GPS apps is Google Map. With Eonon Miracast, you can easily access it in your car. So synchronizing the Google Map or others on our M1 unit is not only convenient but also help you save more, for you don't even need to buy extra map for the units.
Video: High-definition videos and life photos shared on your trip easily! Just put your dvd car player and USB/SD aside! Watch the downloaded movies or photos from your mobile anytime on a head unit is no more a dream! With Eonon Miracast, you can even view the hottest real time online movies on a larger M1 screen with any video apps on your phone! Why not get rid of the heavy DVD discs, messy USB/SD to make your car cleaner and make yourself released.
GAMES: Stimulating games synchronized immediately. Immerse yourself in games by a larger screen! Would like to play thousands of stimulating games like Death Rally, Raging Thunder, Real racing, Angry Birds from your phone but on a larger screen? Eonon Miracast is just for you to realize it! You'll be totally immersed in it and get a striking game experience like never before on M1! (A kind notice that the M1 doesn't include the game function itself)
Music: Music streaming is 50 times faster than traditional Bluetooth, and the music can keep as authentic as possible. A must-have device for every car audiophile! USB/SD, iPod are needless to be taken on your car! Whether you are at the wheel or a passenger watching the countryside slide by, music can always spice up you guys' trip! Since the transmission band width of Miracast music streaming is 50 times than Bluetooth, you can enjoy the most authentic music in shocking sound effect. Miracast is a definitely a history-breaking tech and trend which makes every car audiophile exciting! You can even play differents kinds of FM, AM apps like Pandora, Tunein in the car. Rock on your road with M1 and wish roads were longer!
link:/car-dvd-blog/post/Breaking-News-of-Eonon-Eonon-Miracast-Unit-M1-is-Released.html