There are many types of car video monitors in the market nowadays. When they first come to the market, it's used for many families to entertain their passengers in the back seat to get rid of the long boring journey. It especially can satisfy the need of the families with kids. They can watch the cartoon movie or music video in the back, and easily get amused. What are the different types in the market? Let me introduce to you one by one:

Headrest Car Video Monitors: There're are usually 7 inch and 9 inch ones, come in a pair. The most common material is leather or velvet cover. Your can get the headrest monitors either to the back headrest of your car or into your headrest by using a mounting kit and bracket. The headrest monitors can be replaced with the original headrests if you want to sell or get rid of your ride. You can use the headrest monitors to connect with or to an overhead monitor as a replacement.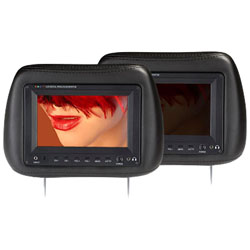 Flip down Car Video Monitors: There're usually 15" and 12" ones. Some senior ones can also play the DVD itself. It sticks to the top of the car which can flip down for you to watch the DVD. the flip down monitors are the overhead monitors which can flip down for your viewing. The monitor is common used by the customers who have vehicles or need the overhead car video monitors for the passengers in the back seat.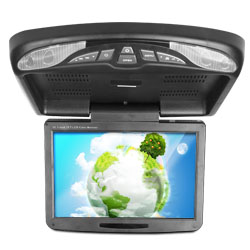 Rear view Car Video monitors: It usually match with the camera to ensure the safety of the driver, to view condition better behind the car. Rear view monitors usually come with HD display screen and have a wide angle to view the environment. With the rear view monitor and camera, you can always keep safe while turning around the conner or reversing the car.

Sun Visor Car Video Monitors: 12 inch and 10 inch ones are the most common in the market. They're usually installed in the sun visor position of your ride. And there're several color options such as black, tan and grey to match with your car interior as closely as possible, which also make your car looks more perfect.

Stand Alone Car Video monitors: It looks like the computer's normal monitor, but it stands alone in the front panel of the car. 7 inch, 9 inch and 10 inch ones are usually for your option. Some advanced stand alone monitor even has a VGA port to connect to the computer. That's to say, it has multiple usage in different conditions.

These are the commonly used Car Video Monitors in your car. You can just pick the one you need to enhance your in car entertainment. There're many good monitors in Eonon website. You can have a look and get your ideal one.
link:/car-dvd-blog/post/Different-Types-of-Car-Video-Monitors.html