Getting stuck in traffic? Just sitting on the seat to spend the bored time? Why not enjoying entertainment with Car GPS? Car DVD players permit you and your passengers to have pleasure in the ride. Its multifunction attract many people but people are wondering how to choose their Car DVD Player at the best quality and more reasonable price. Now this article is mainly to tell you the guide on how to choose Car DVD Player.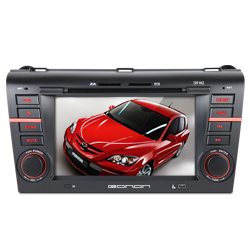 Affordable price. Car DVD is a good unit for your car, not only can bring joys to you but also can help you. However, you must calculate the cost you can afford. As is known to us that the factory upgraded Car DVD player is very expensive. So you can choose Car DVD players online for their competitive price.
High quality. Undoubtedly, this is necessary for choosing Car DVD Player. No one will choose one which cannot work in a few months. So you ought to buy a top quality unit at affordable price. You can compare the Car DVD players you want to buy and choose the favorite one. Search online for its reviews online and any video about the unit.
Nice compatibility. There are general Car DVD players and specific Car DVD players in the market. So the unit you needs to purchase depends on your car. So you ought to learn detailed about the unit before you buy it. You can also ask the shop owners to give some suggestions for you.
Simple to Use. It needs to be easy to operate. For if it is very complicated to use, it brings inconvenient to you. As you ought to pay more attention to drive, an easy-to-use Car DVD Player is necessary. It should contain such functions as touch screen, Bluetooth, built-in GPS, steering wheel control, etc.
link:/car-dvd-blog/post/Guide-on-How-to-Choose-Car-DVD.html