Car GPS Navigation is widely used in the driver's vehicle. Many guys are looking for such unit to make their in car entertainment to be more versatile. There're 2 cases which you don't need the installation costs:

Firstly, for some specific car DVD GPS, since it's easy to install, even a newbie can do it himself, they don't have to pay for the installation cost.

Secondly, for some people who are already familiar with best double din head unit skills and have done it before with much experience, they don't need to pay for it too.
Both of them can totally DIY themselves.

But what if you're not in such 2 cases? Then you'll need to find a local installer shop, and get the Car GPS professionally installed. The process may be similar to the installation of normal CD player or radio. But Car GPS will need more screen to be installed.

So he price for the best car gps installation will be different depending on the service shop you choose. If you have a bigger vehicle, or would like to install more than one LCD monitors such as flip down monitor, headrest, or rear view monitors, the price will be more expensive since the task will be more sophisticated.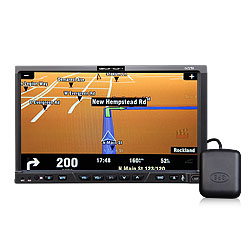 How much is the installation?
- The prices of Car GPS installation vary depending on the store that offer the service. On average, installation prices are going to range anywhere from $75 to $350. Sure this price is not included with the Car GPS itself.
- For example, some small company may offer basic car gps installation for $75 to $80.
- One of the most popular car installers such as Best Buy's may offer their services for $200. The service will include several processes that will involve the removal or installation of an installed DVD or car stereo player in the car.

What is included in the installation?
- Depending on the store that performs the installation, the service may be different. It may includes a checklist of the items that are on the car before and after the installation.
- The proper installation and removal of any dash panels that is necessary to be able to access the deck.

Some Tips:
- Usually the factory installed navigation system may cost much more than the OEM Car GPS. Be sure to make sure of your own requirements, and get the right options before buying a new car, since there're a lot more options which cost too much more!

- Choose a ideal car GPS navigation with great functions you need, with steady quality and considerate after sale service. It will help you reduce the trouble after installing it.

Many Eonon Car GPS are very great with good functions, and as long as 2 year warranty. It's one of your best Car audio choices. Check it here: www.eonon.com
link:/car-dvd-blog/post/Installation-Cost-of-Car-DVD-GPS.html