Ordered and received my G2240 car dvd gps very quickly. Installation was a breeze, after soldering all my connections, it literally took 45 minutes to install the radio in my 2008 Honda Ridgeline. Had an issue with the volume controls, but support fixed me up on that. I have to say, Im very pleased with the performance. Very smooth interface, and I havent found a single function that doesnt work like its supposed to. GPS seems very accurate, with lots of customization settings. Bluetooth works better than the stock BT in new Hondas (I work for Honda service, so I know). Screen is very nice and clear, even on sunny days. No problems viewing it yet. Movies look good. Sound is surprisingly good. When I first installed it, the volume issue I had which I mentioned earlier prevented me from really testing the sound, but once that was fixed (ended up being a firmware issue) I put it through its paces and was pleased. The Ipod interface is very simple to navigate and works really well. Sometimes if you dont use the ipod for a while and then go back to it, it wont read and you have to unplug the Ipod from the cable and plug it back in, but that also happened on my pioneer head unit, so could just be my Ipod. At this point I think Ive tried all its modes, except for the TV and TPMS modes, which I dont have, and it all works flawlessly. Oh, and I havent hooked up my backup camera yet, so I dont know how that will work. For the money, I dont think I couldve gotten a better unit. Ive only had it about a month, so I dont know about long term durability, but so far it has exceeded all my expectations. A lot of my friends at work plan on ordering units of their own now, just from playing with my radio, and they are all also Honda technicians. Thank You Eonon!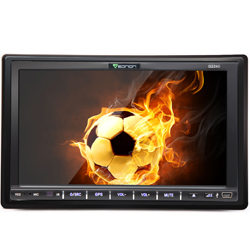 Excellent job guys!! Ordered a ford radio last Friday the 25th, and it arrived this morning. Hong Kong to regional Western Australia (130kms south of the capital city) in 5 days- with the Australia day public holiday on Monday as well. Awesome customer service. Thanks very much. It's very easy to install in my vauxhall corsa, only first take off the old radio and put the eonon radio. There is no need to cut wires or connect wires but don't forget to remove the 2 screws. I'm from Cyprus and maps work excellent! Very very happy!
one word for my new stereo opel navigation (wow)! i received it 3 days after i ordered it. that included thanksgiving. once i received it i couldn't wait to install it. 20 minutes i was done. super easy. the look is exacatly what i wanted. looked just like the factory stereo in my mazda. i am please to say everything word just as stated. i have placed calls, listened to music via bluetooth, played my ipod, not to mention gps! i am very impressed with the quality i got for the price i paid. i took the information about this stereo to radio shack, they told me they could get a comparable stereo for around $800. i paid $300. you do the math. i couldnt be more happier with the purchase. i am not used to making online purchases that go this well. thanks again eonon. only one minor drawback i could come up with is the radio reception doesn't seem as good as the factory stereo but who listens to the radio anymore? there are apps for that. again, very pleased!
Installation complete of a bmw navigation and my initial impressions are very good. It looks great (I removed all the painted decals around the two knobs) Cambus seems to behave ok. Otherwise, clear menus, crisp strong hi/fi with good base,(no HK in mine) nav is good, (picks up ten satellites so I think it gets the old US ones along with Euro sats) Ipod works fine but have yet to sort out how to access my library (75gb) and DVD is ok. TV and r/v cam not installed. It's early days but I'm glad I installed it. The trickiest bit was getting the unit to sit back in the slot, the plugs on the back are hard up against the fresh air duct and getting the wiring and boxes to sit nicely was difficult. So, thanks Eonon, so far so good.
dear susan, i am handicapped, i have to go to california next week, so i pushed myself to get a lot of work done this week-end that needed to get done before my trip. this morning i allowed myself to sleep late this morning, because i was up most of the night working. somebody knocked at the front door to my home early this morning, i struggled to get to the door to see who it was. i was not even fully awake, to my surprise it was the fedex delivery driver with a huge package to deliver to me. it was a shock when i opened it my headrests monitors were in the box. i was shocked very happy that you sent them to me so quickly. they are beautiful, exactly what i wanted to install in a vintage car that i am having restored. there will be some time before they are going to be installed in to my car, but they are exactly what i wanted, i am sure that once they are installed they will be perfect for my needs. thank you so much for sending them to me so quickly, i really appreciate the great service, i am thrilled with the monitors. i do not know when, but i am sure that i will be ordering a bmw sat nav from you again in the future, i will definitely share my knowledge about your website with all of my friends. your great customer service is greatly appreciated !! best regards, norman levin
link:/car-dvd-blog/post/car-dvd-gps_6546.html