If you are an audio-video enthusiast, chances are your factory installed car DVD is not meeting your needs. You want your our ebay storeequipment to have better audio, the ability to play video, a GPS, and Bluetooth/Miracast wireless technology, and that's just for starters. In all likelihood, you will need to upgrade your existing system to something more in-line with your high technological standards.
With technology changing so fast, however, upgrading your system can seem like a daunting process. Just familiarizing oneself with the latest terminology can seem overwhelming. For example, what is the difference between Miracast and Bluetooth? 1 DIN and 2 DIN? What do the acronyms DLNA and NFC stand for, and why does one need them? What brand and model has them all? Let's explore…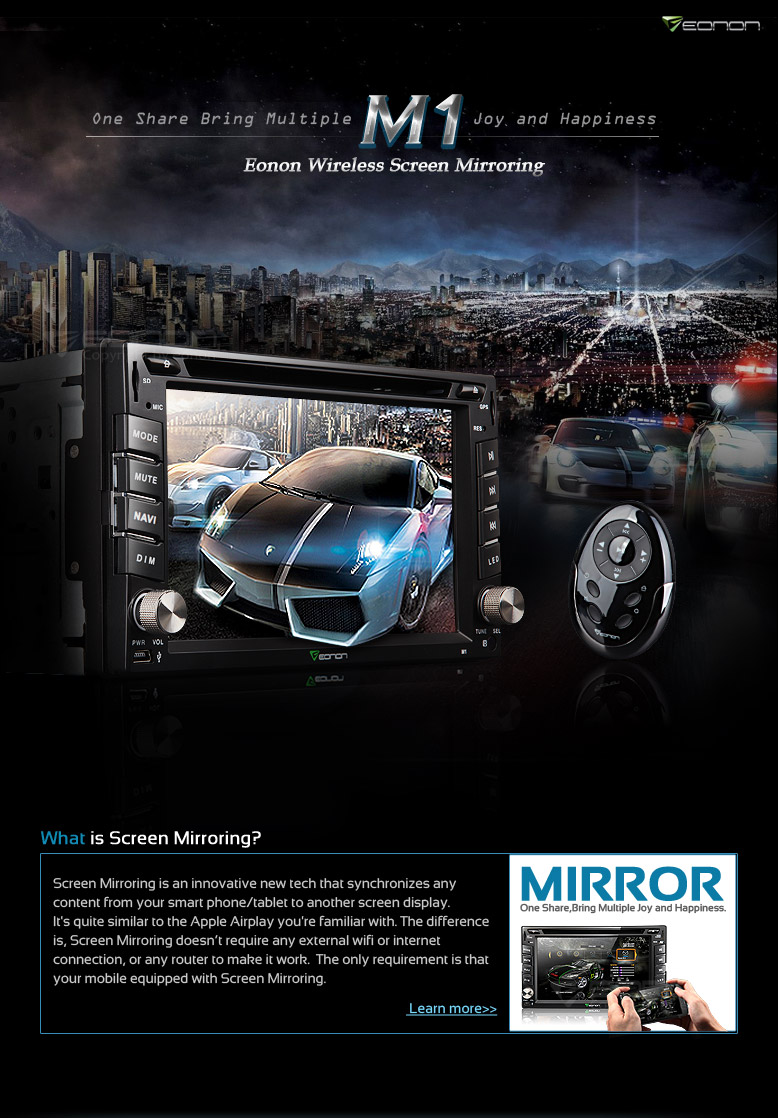 Screen Mirroring (MIRACAST)
Miracast is an innovative new technology similar to Bluetooth. It enables wireless high definition video and music transfer between electronic devices such as desktops, laptops, tablets, mobile phones, etc. While it works over Wi-Fi, it doesn't require an external connection or router, only that both the sending and receiving devices be Miracast compatible. Miracast transmits up to 1080p high definition video and 5.1 surround sound and can synchronize any content from one screen device to another. Its bandwidth is exceptionally wide making wireless transmission incredibly fast. As a result, music streaming is 50 times faster with Miracast than with that of Bluetooth.

DIN, DLNA and NFC
Head units come as either 1 DIN or 2 DIN. DIN refers to the standardized size of a car stereo. 1 DIN is the U.S. standard and measures 2″ high x 7″ wide. 2 DIN measures twice as high and is 4″x7″. It is important to know which DIN your car supports in order to determine the fit of your new equipment and whether an adaptor will be needed. The Digital Living Network Alliance, DLNA, is a non-profit trade organization responsible for establishing the guidelines of digital media sharing on multiple devices. If a device comes with the DLNA stamp of approval, it means it has the capacity to share media across multiple devices. Near field communication, or NFC is a set of standards for smart phones, tablets, etc. to connect with one another simply by touching or bringing in close contact to each other.

The Eonon M1
The Eonon M1 Car DVD GPS is the first ever wireless Miracast in the industry. It is a 2 DIN car DVD player with Miracast technology and a 6.2″ Digital Touch screen. With the Miracast technology built in, you can easily access Google Maps in your car, for free, eliminating the need for a separate GPS unit. Essentially, anything you can watch on your phone, from YouTube to Netflix, you can transfer to the M1 without messy cables or a DVD player. You can even play games from your phone on the M1! And with Miracast, music streaming is 50 times faster than Bluetooth enabling apps like Pandora to play with amazing results. You can also listen to your iPhone Airplay function using DLNA. The M1 is DLNA compatible with most smart phones including the iPhone, Samsung and Google. It incorporates the latest NFC for Bluetooth pairing and comes equipped with an ARM 11 Processor. The Eonon M1 even has a Tire Pressure Monitoring System built into it to alert the driver when the tire pressure of the vehicle is getting low.
If you want to improve the sound and video quality of your car system, the Eonon M1 offers all the latest features with full Miracast integration for any audio-video enthusiast to more than meet their goals.
link:/car-dvd-blog/post/178.html