There are many brand
Car DVD
for people to choose right now. Among so many car brands, VW is one of the biggest car manufacturers try to make every effort in the energy saving aspects. Also the VW Golf is one of the best selling car series in VW cars for its fashion design and super quality. It is great to own such a good car,so what if adding a special Car DVD for your VW Golf, it won't be better, isn't it?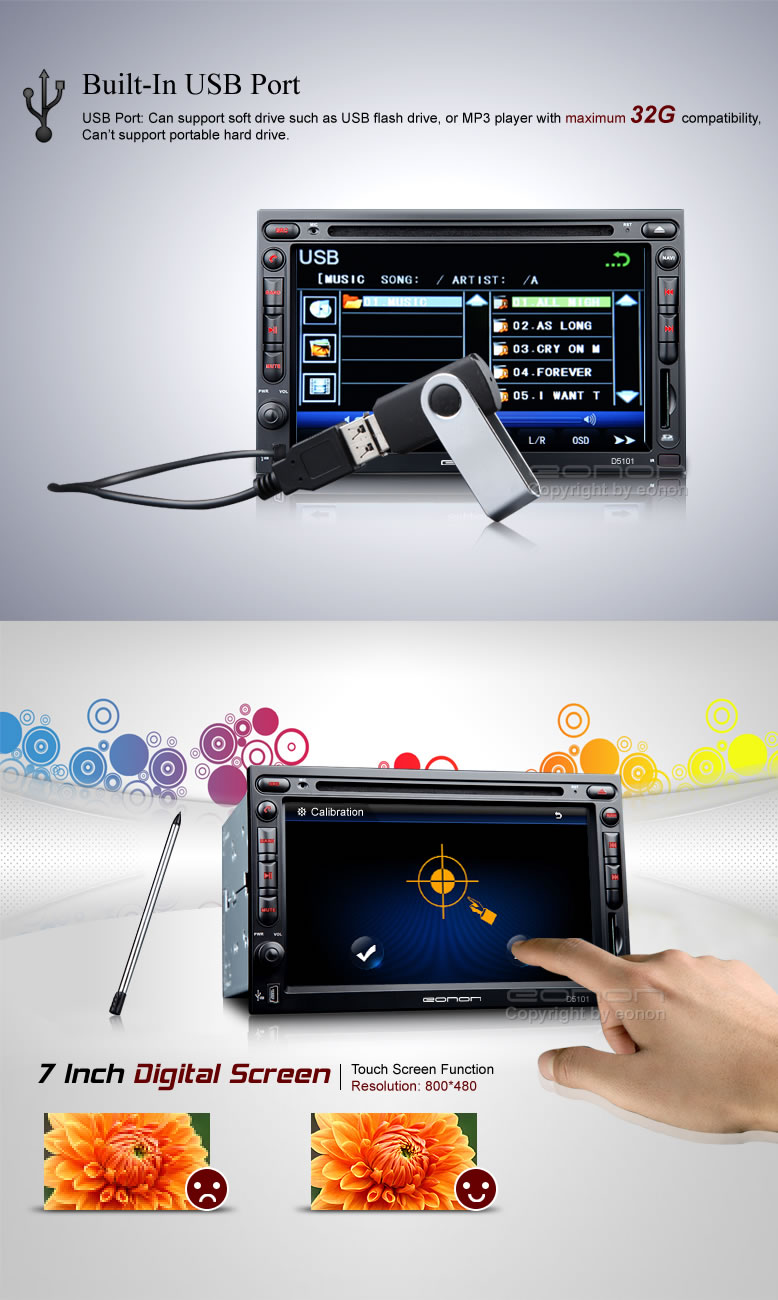 Here this article, it will recommend one
Car DVD Player
D5101 for your vw golf which is at big promotion at present. Just follow this article.
The features and functions of D5101
Car GPS
:
D5101 is a 7 Inch Digital Screen Touch Screen
In Car DVD
with Built-in GPS For VW Golf/POLO/Jetta/Passat, it supports 3 Maps for you to choose. But you need to check that whether your car has can bus or not. Drives of VW Golf/POLO/Jetta/Passat cannot miss this unit.
Always get lost in the Journey? So
Car GPS
can greatly help you. This unit has built-in GPS Navigation, and eonon offers USA/Canada Map, Wester Europe Map and Australis Map for customers to choose.Therefore, whichever country you are, you can find the best and shortest way to the destination.
The new function dual zone for Car GPS. Feeling Annoy in the journey, why not playing some music and watch movies to relax yourself? Dual Zone for GPS enables you to watch movies while looking for the GPS maps.
Do not want your families worry about your safety for driving? Then choose a
Car DVD Player
with steering wheel control function is needed. You can set the steering wheel control and choose the functions you want to set. So when you drive your cars, just need to control the steering wheel and you can easily enjoy any function of Car DVD Players. What's more, this unit supports Bluetooth function. Only if your phone supports Bluetooth, then you can connect your phone with this unit, and you are able to make calls with your hands free.
Voice Command is also a new creation for
Car DVD Players
. You can easily choose the function of Car DVD Players. Just speak out the function of the unit, and the unit can automatically go to the interface of that function. This can greatly change the traditional action such as press the button.
So such kind of great In Car DVD, you must prepare one for your
VW Golf
. Now the price is very competitive, for the big promotion is on the go, so you cannot miss this change, the price will return to the original price after 3 weeks. So seize this chance.