It will be dizzying for now there are various kinds of Car DVD players for people to choose online. Is there any way to choose a multi-functional Car DVD Player newly released with excellent quality and reasonable price? Although the factory upgrade Car DVD Player is great, the price is so expensive which makes it hard to decide to buy. So people are more prefer to choose after-factory Car DVD Player for its high quality and reasonable price.
So after all, whether there is such kind of Car DVD Player in present market? The answer is yes. Eonon recently released the special Car DVD Player for Toyota Corolla, so Toyota Corolla drivers, you are so lucky! D5120 is specially designed for this car serial. With powerful ARM processor, many cutting-edge features, and the most attractive feature is the price, it's only cost you $257!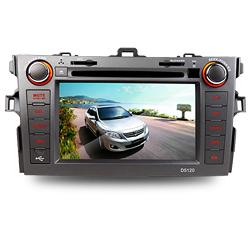 This Car GPS with 7 inch digital touch screen, it not only looks modern and fashion, also it is very easy to use. Just make your finger touch like dance on the screen. It has built-in GPS function, so no matter you are aware of the transportation, the GPS can give you the simplest and shortest way to the destination. You will never get lost with it. And the picture-in-picture function permits you to notice the GPS while watching movies.
The exciting feature of D5120 Car GPS Navigation is its ARM 9 Processor, makes this unit system run 70 times faster as the computer. And the cooler UI is also amazing! The built-in dimmer function allows you to adjust the light of the Car DVD Player at day and night.
Let steering wheel control guarantee your safety! With this function, you can rest assure to choose any function. You will enjoy dual zone function, not only you can enjoy the entertainment of the Car DVD Player, people backseat can also enjoy the entertainment.
Such kind of newly multifunction Car DVD Player, never expect so many guys have booked it via Email from the very beginning! So what are you waiting for? Order it now! It will be a wise choice for you!
link:/car-dvd-blog/post/Car-DVD-Player-D5120-for-Toyota-Corolla.html