Had a little go with it and i've got the following to report of my bmw e46 gps :- . 1) E46 navigation D5113 looks totally OEM, the same coloured plastics, feel of buttons, Orange Colour of buttons, BMW Icon on boot up. 2) It takes only a few seconds to boot up. 3) The radio is spot on, lots of options, It can auto tune all the memory's etc. Reception is rock solid, each stations name is displayed (Radio 1) etc. 4) DVD's take about 15-30 seconds to load, everything is as you would expect, smooth, rich colours, great sound.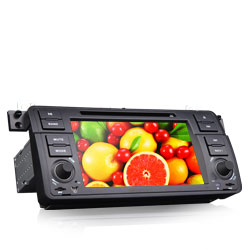 I've got the HK system e46 navigation and it comes through all the speakers, rich thumping bass and high tweets. You can have subtitles on/off etc. You can output this to two other screen also (I haven't tried this). 5) (Next GPS so far this is the most impressive thing ive tried). 6) I fitted the satnav antenna up by the rear view mirror. The satnav locks on very quickly to the sats 30 secs to 2 mins?. There is almost every possible setting you could ever want. When deciding where to put the GPS antenna theres a great setting that lets you see how many satellites have been found what there strength is and if locked or not. It also tells you other stuff like where they are in the sky etc lol. Once its locked on and found your position, you get all the usual options, navigate to etc etc. You can search for POI need your location, I chose restaurants if new all my local ones, one touch and your on your way, its got all there numbers ready to dial. You can choose and language you want for the instructions. The Navi accuracy is spot on, it knows every road every turn, it even tells you things like (go slightly left as opposed to left, awsome) fells better than my tom tom. It re-routes very quickly as you would expect. It knows every speed limit and displays this, you can set up an alert to tell you if you exceed 10% of the given speed limit ( i love this).
You can watch a DVD in full screen on the e46 navigation and have the nav telling you directions in the back ground. Or you can have the Nav on and have a one of two small picture in picture screens. You could also have the radio or cd playing at the same time. Basically its totally spot on. Does full post code or address search. 7) Bluetooth works as you would expect, nice and shape and the person on the other end doesn't hear any echos etc.I had a DVD on full screen, with the sat nav giving my voice commands and i made a bluetooth phone call, all worked spot on, greeeeeeeeeeat :D
8) The sound settings of this bmw e46 gps is pretty cool, you get the see the seats from aboveand a crosshair of where the sound is centred. You can change everything as you would expect and can have different presets (Classical, Rock...etc etc) Ran out of time as my curries just turned up, but basically so far this thing totally rocks, really happy with it........more to follow. 9) Now you have TV............It found lots of channels, to list a few, all the normal ones + QUEST, QVC, GEM TV?, FILM 4, C-BEEBIES, and unbelievably SKY SPORTS 1, ok so this says scrambled but hey ho.........The Reception is rock solid whilst stationary, I took the car for a spin, only up to about 60 mph still amazingly good, it did do the digi-pixel thing a couple of times, but to be fair i've only temporarily put the tv unit in (literally duct taped it to the boot floor, lol) and the wires are all criss crossed so that won't be helping with interference. I haven't tried all the buttons on the remote as ran out of time and there are quite a few, but all the usual, channel, up down, vol up/down are all there, but the coolest thing is you can rewind live tv, or pause, etc, it works just like your SKY + Box. I'm assuming that's the USB acting as a Hard Disc. I was totally blown away with this. I drove around watching the GBR girls play their Olympic hockey match omg top quality amazingly smooth, the TV was pretty good also. I've done a temp phono connection so only got sound out of the left speakers but even that sounds great, so with both sides on it will be amazing.You can do the usual Satnav and TV thing at the same time.
To sum it up, this Car DVD Player is simply stunning, great little bit of kit, everything about the TV unit creams quality, it's even got 3M sticky pads on the antenna's, ok not quite M3 but near enough Must Admit I'm really liking the EONON stuff, if it's all this good you can't go wrong. Anyone thinking of changing their OEM TV/Screen etc, do it, you won't be disappointed! : ) Right off to bed the Mrs is in a right mood as I've spend 1.5 hours writing this lol. 10) Little update, I've now installed the TV unit 95% properly in my boot and untangled the wires etc, took the car out to test and can confirm that I haven't had Any interference what so ever, this was driving up to about 60 mph, big thumps up !!! :) Saw Chris Hoy get his gold medal, sweeeeeeeet Forgot to Add that the TV unit also picks up Radio.
11) Need to add, the sound of this bmw e46 gps seems much much louder/crisper than the OEM HK set up I had. Watched a good 20 mins of Shaun of the Dead on DVD also on it, great quality, im very very impressed with this unit. It's also got two USB ports in the back.GPS locks on straight awayIf you haven't already, BUY ONE!!!!!!!!!1
For your reference:
http://forums.m3cutters.co.uk/showthread.php?t=57761&page=10
http://forums.m3cutters.co.uk/showthread.php?t=57761&page=14
link:/car-dvd-blog/post/Eonon-D5113-BMW-E46-GPS.html