Do you know what is the hottest Flip Down Monitor? Yes it's our D3103Z! Now an upgraded D3103G with new 32 bit games function is released! Even more fun! http://www.eonon.com/Car-Monitors/Flip-Down/D3103G.html Your passengers can definitely drive away their boring time in the back with games! And the DVD player, IR/FM Transmit support, USB/SD support functions make this monitor to be the most powerful ever! 35% off now! Welcome to buy!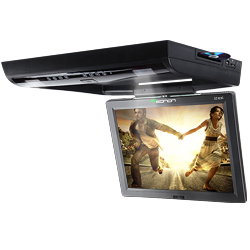 This Car Video Monitors comes with a built in video game player! It can support 32 Bits Game Function. With the included wireless controller and tons of fun games available on the included CD, those backseat drivers will enjoy themselves and simmer down! If you're heading on a long road trip with your family, then keep them laughing and entertained, instead of screaming "Are we there yet?!"
And you should ask why go with a flip down monitor style Car DVD player and not a regular in-dash car DVD player? It's all about the style and angle. With an in-dash car DVD player you're looking down at the screen and for some people this can be tiring. With an overhead monitor, you can lean your head back against your plush and comfortable headrest. What's more, flip down monitor car DVD players also make it easier for the passengers in the back ( colleagues, kids, and friends) to see what's playing!
  
Last, this Car Video Monitors is very easy to be installed. Simply remove the 4 screws at the bottom of the unit to detach the metal support bracket. Tighten the metal support bracket to the roof of your car. Attach the unit back onto the metal support bracket. Then it will be OK. Easy Peasy! Now Brought to you by the online leaders in direct from factory Car DVD players - Eonon.
link:/car-dvd-blog/post/Flip-Down-Car-DVD-Player.html