It's normal to see that many drivers have upgraded their vehicles by OEM Car DVD players to enrich their in car life. And among them, many customers who have a big family or have a kid may need additional headrest monitors to match with them. Do you know why?

For one thing, it's a good way for your passangers, especially your kids on the back seat to enjoy the wonderful DVD movies like Mickey Mouse, White Princess. By watching their beloved movies, not only can they kill their boring time on the car, but also it will make you concentrate on your driving with less distraction. You can focus on the road without taking care of them always. It will be a big relief to you! So car headrest monitors can definitely bring you more happiness and safety.

For another, there are many best car gps incorporated with GPS function, and many GPS has the dual zone function, which enables you can realize the important function:
Enjoy Navigation with car speakers in the front zone; while backseat passengers can enjoy DVD movies through the AV output of the unit.
You can listen to the music while using GPS navigation at the same time.
The fast-growing technology allows you to adding a headrest monitors and enjoy the wonderful experience with the head unit, they're perfect match for the driver and passengers.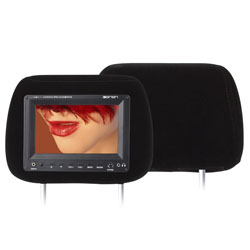 So how do you choose a headrest monitors?
Firstly, choose the right exterior, usually there're Leather, velvet and Moquette Zipper Covers. If you want to clean it easily, the leather ones could be the right one for you.
Secondly, choose the proper color to match with your interior, usually there're black, tan and gray colors for your option.
Thirdly, you can pick a wireless IR head phone which can help your passenger listen to the movie more clearly.

Many Eonon headrest monitors can fulfill your needs, welcome to take a look here:
http://www.eonon.com/Car-Monitors/Headrest.html
link:/car-dvd-blog/post/Get-Headrest-Monitors-with-a-Car-DVD-Player.html