POI is one of the most commonly used functions for good Best Car GPS. Do you know what does this technical term mean and how important it means for a GPS? This article will introduce you more in details.

What is POI in a Car GPS?
POI stands for Point of Interest. A point of interest is a specific point location that someone may find useful or interesting. An example is a point on the Earth representing the location of the Space Needle, or a point on Mars representing the location of the mountain, Olympus Mons. A car GPS point of interest specifies, at minimum, the latitude and longitude of the POI, assuming a certain map datum. A name or description for the POI is usually included, and other information such as altitude or a telephone number may also be attached. GPS applications typically use icons to represent different categories of POI on a map graphically.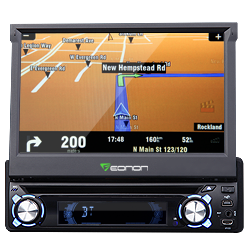 In a Car DVD GPS, it always show you such important information: Automotive Service/Hotel/Eat & Drink/Shopping/Leisure Center/Medical Services/Transport Information and so on. It's especially useful if you go out for a distant place to have a vacation or a business trip, which you don't know what place is with more fun to worth a visit, or which restaurateur worths to have. This POI function will help you a lot when you don't know where to find the shopping center, where to add the oil, ect.

Many maps have such POI function, such as the popular iGo, Garmin, Sygic, Pol Nav, ect. It becomes a must for these map company to provide such useful resources for users.

So if you would like to get a best double din head unit make sure you have got the right unit with map and POI function, it will bring you much more convenience while you're on the road. You can see many Eonon Car GPS have this amazing function here: http://www.eonon.com/Car-GPS-Navigations.html Such as 1 Din G1310, 2 Din G2216 Car GPS are both great ones.
link:/car-dvd-blog/post/WhatisPOIforCarGPSNavigation.html