There are many VOLKSWAGEN Passat owners and audio fans may look for a best car gps to replace their old factory radio unit. As the car audio device becomes more and more advanced in Hi-level technology world, many of them want an all-in-one unit which has as many shining features as possible. In order to satisfy to customer's requirements, Eonon releases a new upgraded version of VOLKSWAGEN Passat Car DVD Player D5109 to cater to them.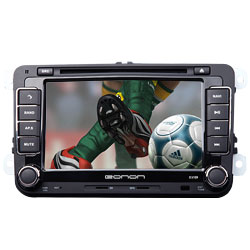 What's the difference of the new VOLKSWAGEN Passat Car DVD Navigation D5109 between other car DVD GPS? Eonon always gives customers much surprise. They will satisfy their customers' demanding needs. Since VOLKSWAGEN Passat Car DVD Navigation D5109 has all the fantastic functions which you are looking for.

3D Animation User Interface, With 3D interface design of VOLKSWAGEN Passat Car DVD D5109, it gives you a different feel, it lets you feel so cool, just to be a tiger with wings added, make your entertainment world to be colorful! Then is Dual Zone Function, the VOLKSWAGEN Passat Car GPS Navigation D5109 not only has GPS function, but also has Dual Zone Function. How to realize? First, you can listen to the music while using GPS navigation at the same time. Second, you can enjoy Navigation with car speakers in the front zone; while backseat passengers can enjoy DVD movies through the AV output of the unit. Are you so excited?

There are more surprising are waiting for you! The best double din head unit D5109 comes with as many as 74 car brand logos, you can choose the one which matches perfectly with your original vehicle. Just change it according to your mood. In addition, D5109 has many great features like any other units, including steering wheel control, Bluetooth function, iPod support, USB/SD support, built-in AU/EU/US/CA map optional, etc. Whether these function can satisfy you? I think the answer is YES.

The last but not least, the VOLKSWAGEN Passat Car DVD player D5109 is compatible with Eonon's new voice command device VC01, VC01 is their new milestone device which can help you realize all the operation through voice.

The Car DVD D5109 will definitely take VOLKSWAGEN Passat owners' in car entertainment system to a whole new level. Nothing can compare! It will definitely become the only one for your VOLKSWAGEN Passat. Cheer!
link:/car-dvd-blog/post/Car-DVD-Player-for-VW-Passat.html