Guys, are you waiting for the new models for a long time? It's time for us to introduce Eonon new Car DVD for you guys. :)

Now let's welcome the super 1 Din Car DVD -- G1310/D1310.
As we know, G2216 is the King Unit among 2 Din GPS for its awesome performance. So many people asked, what's your 1 Din King best car gps? Then it must be our G1310. It is an all-in-one Car GPS that you cannot miss this year. What great features does this fashionable & customizable 7 Inch digital touch screen unit have?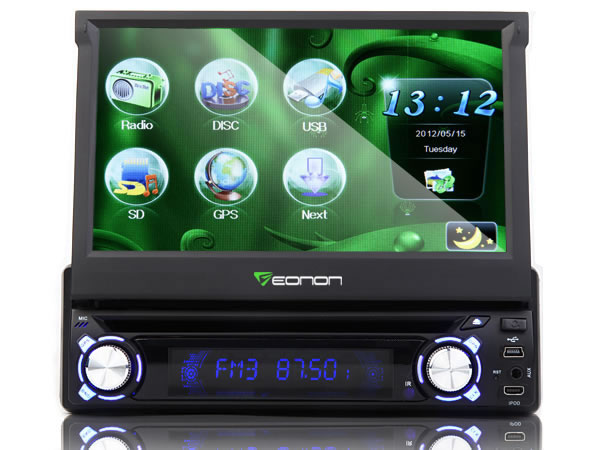 -Slide Touch Interface
-Background Picture Switchable
-Car Startup Logo Switchable
-Bluetooth for iphone/iphone 3G/3GS/4/4s
-Phonebook Access
-Steering Wheel Control
-Screen Saver Function
-Bulit-in GPS with Dual Zone Function and PIP-US/CA/EU/AU Map Optional
Check more futures here: http://www.eonon.com/Car-GPS/1-Din-Car-GPS-DVD/G1310.html

More over, designed with sophisticated technology, the material of G1310 are also the world class. All the 300 components are originally improted. These will ensure you more steady performance.

And the only difference between G1310 and D1310 is the GPS function. So if you only want to choose a Car DVD gps. D1310 is the best choice. /car-dvd-Players/1-Din-Car-DVD/D1310.html

We also noticed that many customers always have such a question: which camera should I choose for my Eonon Car GPS/DVD player? So here we release some new combos, especially for you guys:
$189 for C1201: D2223+A0113 /car-dvd-Players/2-Din-Car-DVD/C1201.html
$219 for C1202: D2208+A0110 /car-dvd-Players/2-Din-Car-DVD/C1202.html
$249 for C1203: D2216+A0110 /car-dvd-Players/2-Din-Car-DVD/C1203.html
$329 for C1301: G2216+A0110 http://www.eonon.com/Car-GPS/2-Din-Car-GPS-DVD/C1301.html

All these are our hot units. Now easier to choose and less to pay! Best time to get one for your car!

Eonon, steady and ready for your roads! http://www.eonon.com/
link:/car-dvd-blog/post/Eonon-Car-DVD-GPS-And--Combos.html