If you the owners of Ford Mondeo(2005-2011), are you looking for the most favorable price with best quality specific Car DVD Player for your beloved Ford Mondeo? Are you want the Black color or Silver color? Just see below, there are a lot of surprises are waiting for you, cheer!

Now there are a Car DVD Player named D5118&D5119 and which is a amazing unit for Ford Mondeo. The unit can fit perfectly in the Mondeo(2005-2011). there isn't any gap with original dashboard after installation. There are 2 DIN beautiful picture OSD menu function and the big display 7 Inch Digital Touch Screen make this unit very special.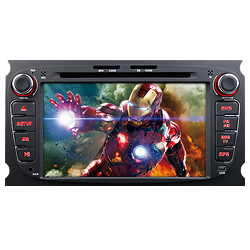 At first, Maybe you will ask why you should choose D5118&D5119 Car DVD Player. The answer is very simple. Since if you choose D5118&D5119 for your Ford Mondeo, it is very easy for you to install it: 1.Directly Plug and Play. 2.You can do it by yourself. So the installation fee will be free and no extra kit and harness is needed. So you can save much installation fee. What's more, it's the most favorable price with best quality in the market! Totally worry free!

Second, i will tell you how many fantastic functions this Car DVD Player has. It has Radio function, includes 30 Preset Stations. And it supports these DVD formats: AVI/DVD/DVD+R/
DVD-R/DVD-RW/VCD/MP3/CD/CD-RW/JPEG, you will enjoy yourselves with this fantastic Car DVD during your trip!

Third, the important function of this Car DVD Player is GPS function. Now the transportation has been developed so fast that the number of roads and streets increases quickly, and at the same time, people often need to travel in many place. Then a GPS system for navigation becomes very helpful and useful. So the GPS function is very necessary for your Ford Mondeo.

Last, this Car DVD Player for your Ford Mondeo also has these important functions: Background Switchable function, Bluetooth Phonebook & MP3, Dual Zone for GPS, and Steering Wheel Control, are you so excited?
link:/car-dvd-blog/post/The-best-Car-DVD-Player-for-you-Ford-Mondeo.html